Regular price
₹ 508.47
Sale price
₹ 432.20
Unit price
per
Sale
Coming Soon
𝗔𝘃𝗮𝗶𝗹𝗮𝗯𝗹𝗲 𝗢𝗳𝗳𝗲𝗿𝘀

◉ 𝐎𝐟𝐟𝐞𝐫𝐬 : ➊ Get 50g instant coffee free on your Order above ₹250+
➋ Get Flat 20% off on order Use code: 𝐃𝐑𝐀𝐌𝐀𝟐𝟎 for One use per customer
◉ 𝐅𝐫𝐞𝐞 𝐬𝐡𝐢𝐩𝐩𝐢𝐧𝐠*: Free Shipping on Orders above ₹400/-
◉ 𝐂𝐚𝐬𝐡 𝐨𝐧 𝐃𝐞𝐥𝐢𝐯𝐞𝐫𝐲*: COD available without any additional charges
◉ 𝐄𝐚𝐬𝐲 𝐑𝐞𝐭𝐮𝐫𝐧 𝐏𝐨𝐥𝐢𝐜𝐲: Return an order within 5 days from the date of receiving the order If you've received a damaged product. Send an email to Dramallamabev@gmail.com
𝗡𝘂𝘁𝗿𝗶𝘁𝗶𝗼𝗻𝗮𝗹 𝗖𝗼𝗻𝘁𝗲𝗻𝘁

◉ Approx Value Per 100 g*
◉ Energy: 352 Kcal
◉ Carbohydrates: 72g
◉ Protein: 26g
◉ Fat: Traces
𝗛𝗼𝘄 𝘁𝗼 𝗕𝗿𝗲𝘄

◉ Add 1 tsp (2gm) of Drama Llama Green Tea to 1 cup (200ml) hot water.
◉ Let it infuse for 2 -3 minutes.
◉ Add sugar/honey as per taste.
◉ Strain and enjoy.
Brews made from Drama Llama's Green Tea have got more than you think.
From balanced cholesterol level and blood pressure, pumped up energy to glowing skin.
It is surely that immunity potion to charge up your day.
Highlights
From the hills of NILGIRIS
Gluten Free
Keto Friendly
Vegan Product
45 Cups in 100gm
Reasons to buy it
Because you are smart, if that is not a reason enough, here are some other reasons.
Zenful Delight: Drama Llama Green Tea brings you the calming zen of green tea, perfect for soothing your mind and soul.
Drama-free Energy: Enjoy a natural and steady energy boost with the gentle caffeine kick found in green tea, without the jitters.
Antioxidant Powerhouse: Packed with antioxidants, Drama Llama Green Tea helps protect your body from oxidative stress.
Immune Support: The goodness of green tea supports a robust immune system, helping you stay on top of your game.
Llama-licious Flavor: Embrace the unique flavor profile of Drama Llama Green Tea, combining freshness and smoothness in every cup.
Metabolism Boost: Green tea has been linked to supporting a healthy metabolism, aiding in weight management efforts.
Healthy Hydration: Stay hydrated in style with Drama Llama Green Tea, a delightful alternative to sugary beverages.
Llama-fy Your Routine: Step away from the ordinary and add a touch of llama-tastic charm to your daily tea time.
Versatile Brewing: Whether hot or iced, Drama Llama Green Tea is a versatile companion for any season or occasion.
A Cup of Fun: Infuse your tea breaks with a dash of drama and llama magic, making each sip an adventure in itself.
High-Quality Blend: Drama Llama Green Tea is crafted with care, ensuring a premium tea experience every time.
Share the Llama Love: Bring joy to friends and family by gifting them the quirky elegance of Drama Llama Green Tea.


View full details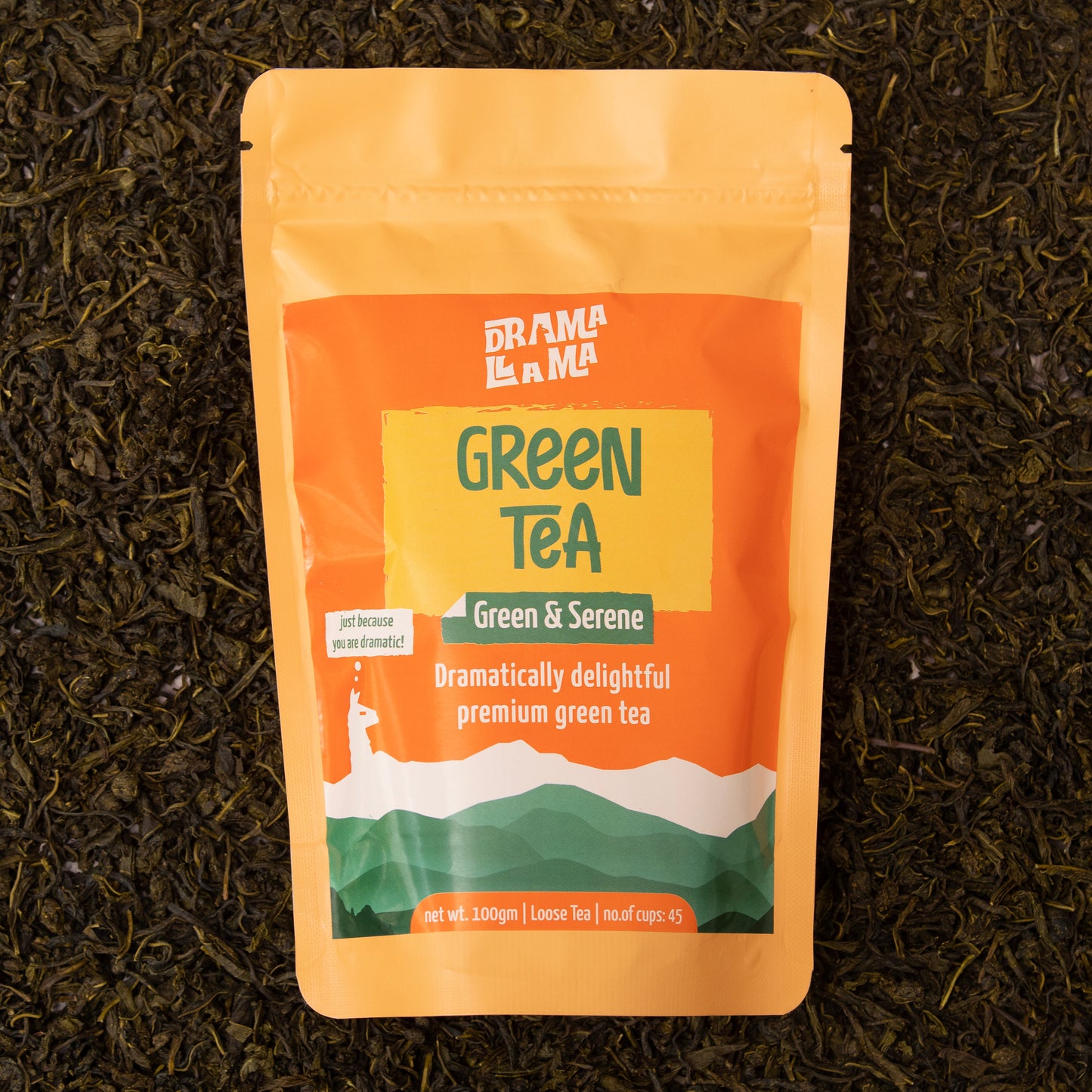 I saw them at a pop up in Chennai, and fell in love with the brand name and the colours of the brand, mas soon as I had the coffee at the outlet I wanted to try other products as well, Tried the Green tea it is great. Definitely recommend both.
It takes time to make unlike a tea bag but it is definitely wait the time