Regular price
₹ 1,144.07
Sale price
₹ 889.83
Unit price
per
Sale
Coming Soon
𝗔𝘃𝗮𝗶𝗹𝗮𝗯𝗹𝗲 𝗢𝗳𝗳𝗲𝗿𝘀

◉ 𝐎𝐟𝐟𝐞𝐫𝐬: ➊ Get 50g instant coffee free on your Order above ₹250+
➋ Get Flat 20% off on order Use code: 𝐃𝐑𝐀𝐌𝐀𝟐𝟎 for One use per customer

◉ 𝐅𝐫𝐞𝐞 𝐬𝐡𝐢𝐩𝐩𝐢𝐧𝐠*: Free Shipping on Orders above ₹400/-
◉ 𝐂𝐚𝐬𝐡 𝐨𝐧 𝐃𝐞𝐥𝐢𝐯𝐞𝐫𝐲*: COD available without any additional charges
◉ 𝐄𝐚𝐬𝐲 𝐑𝐞𝐭𝐮𝐫𝐧 𝐏𝐨𝐥𝐢𝐜𝐲: Return an order within 5 days from the date of receiving the order If you've received a damaged product. Send an email to Dramallamabev@gmail.com
𝗜𝗻𝗴𝗿𝗲𝗱𝗶𝗮𝗻𝘁𝘀

◉ Coffee Beans
◉ Natural Hazelnut Flavouring.
𝗡𝘂𝘁𝗿𝗶𝘁𝗶𝗼𝗻𝗮𝗹 𝗖𝗼𝗻𝘁𝗲𝗻𝘁

◉ Approx Value Per 100 g*
◉ Energy: 352 Kcal
◉ Carbohydrates: 72g
◉ Protein: 18g
◉ Fat: 2g
𝗛𝗼𝘄 𝘁𝗼 𝗕𝗿𝗲𝘄

◉ Can be brewed hot or cold with milk or just black
◉ Add sugar as per taste.
Premium hazelnut coffee beans, handpicked and expertly roasted. The sassy blend that wakes you up with nutty perfection, providing an instant boost to your mornings.
Highlights
No Artificia flavor

100% Authentic Arabica Beans

Gluten Free

Keto Friendly

Vegan

Shelf life: 24 months
Reasons to buy it
Because you are smart, if that is not a reason enough, here are some other reasons.
Rich Flavor: Hazelnut coffee offers a delicious and unique flavor profile that enhances your coffee experience.
Antioxidants: Hazelnuts are a natural source of antioxidants that can help protect your cells from damage.
Energy Boost: Caffeinated hazelnut coffee provides a quick and satisfying energy boost to kickstart your day.
Mood Enhancer: The delightful aroma and taste of hazelnut coffee can lift your spirits and brighten your mood.
Nutrient-rich: Hazelnuts are packed with essential nutrients like Vitamin E, B vitamins, and healthy fats.
Reduced Sugar: Hazelnut coffee often contains natural sweetness, allowing you to enjoy a flavored coffee with less added sugar.
Versatile: Hazelnut coffee can be enjoyed black, with creamer, or as a base for various coffee recipes.
Weight Management: The nutty flavor can make your coffee more satisfying, potentially curbing snack cravings.
Convenient: Instant hazelnut coffee offers the same great taste without the need for complicated brewing.
Coffee Upgrade: Hazelnut coffee adds a touch of sophistication and excitement to your regular coffee routine
View full details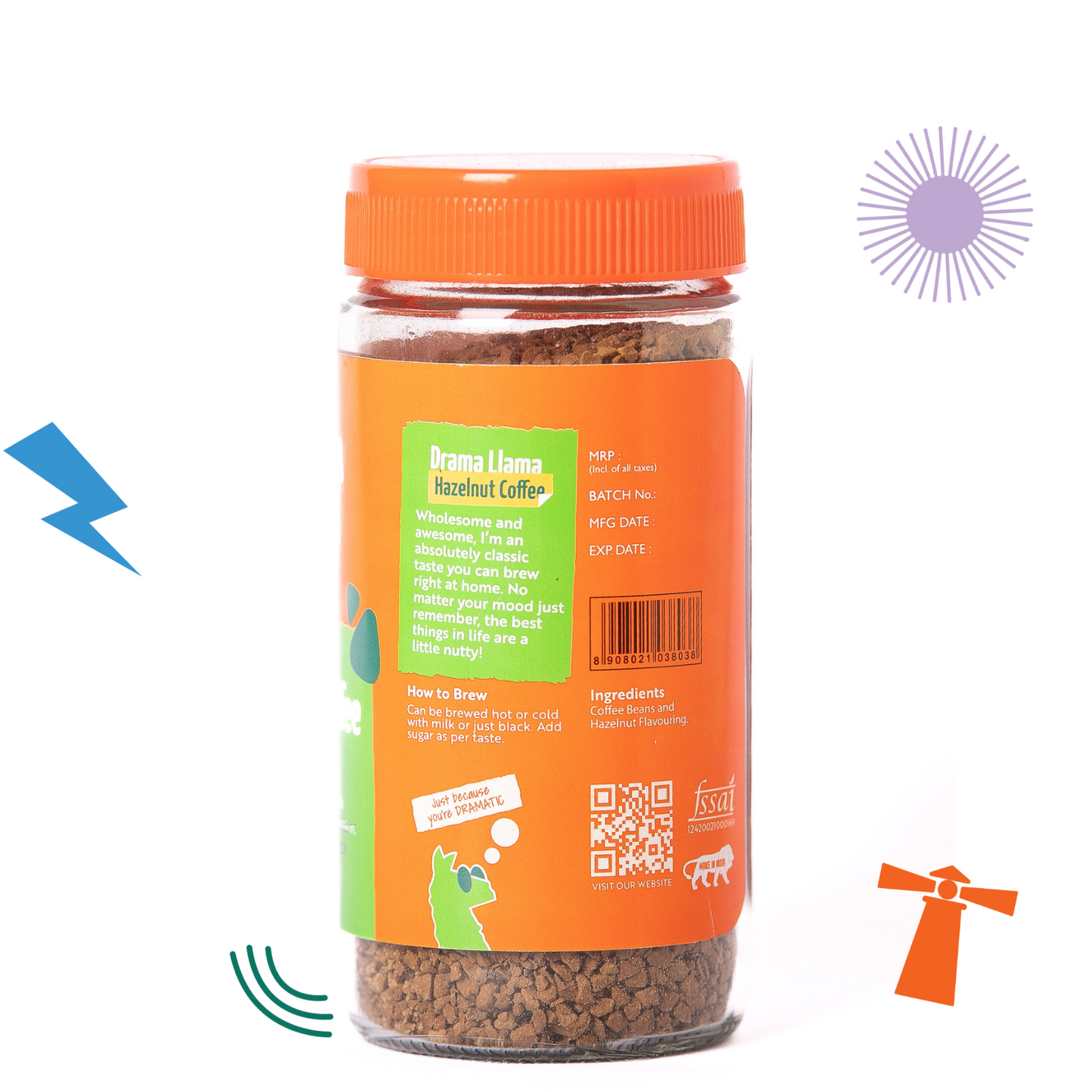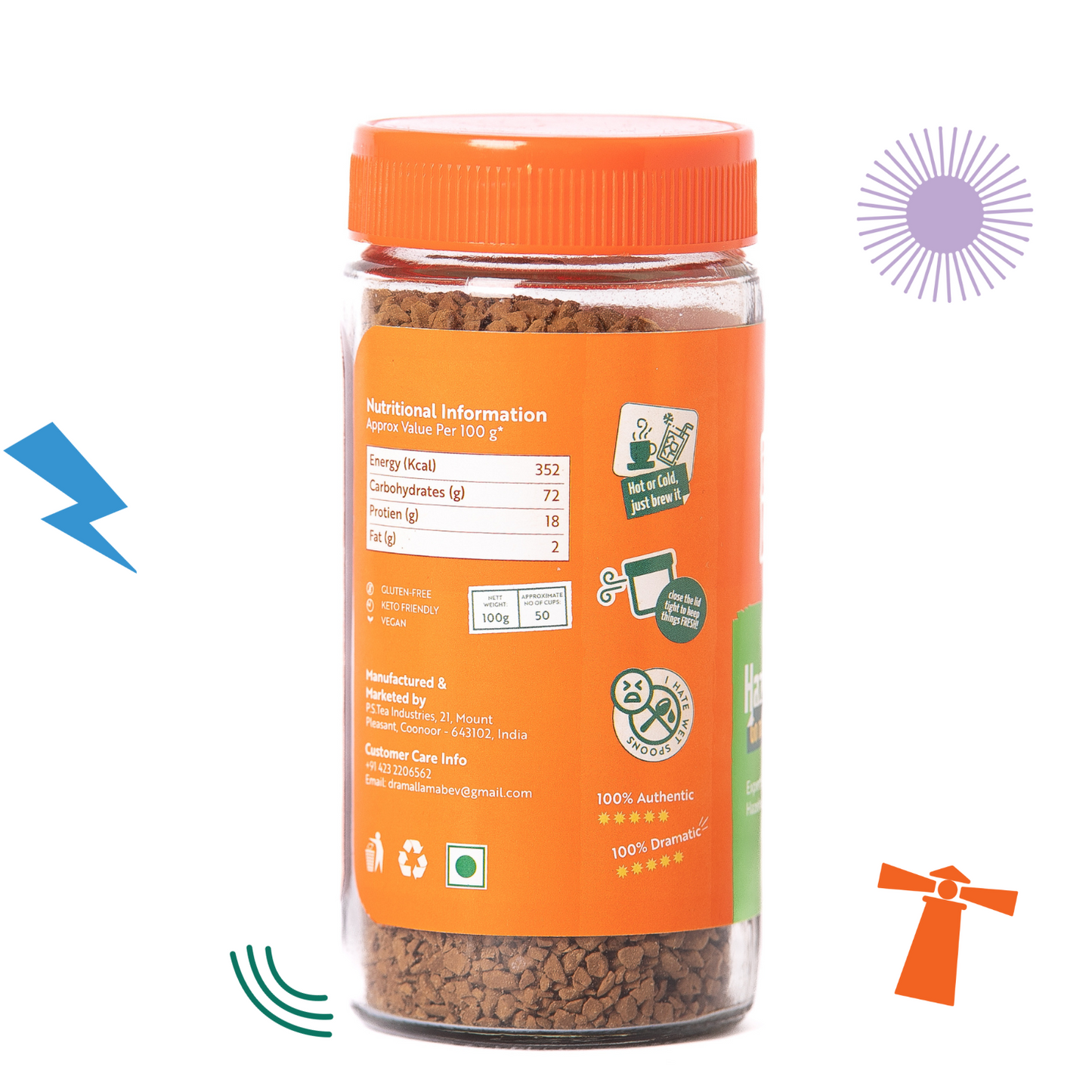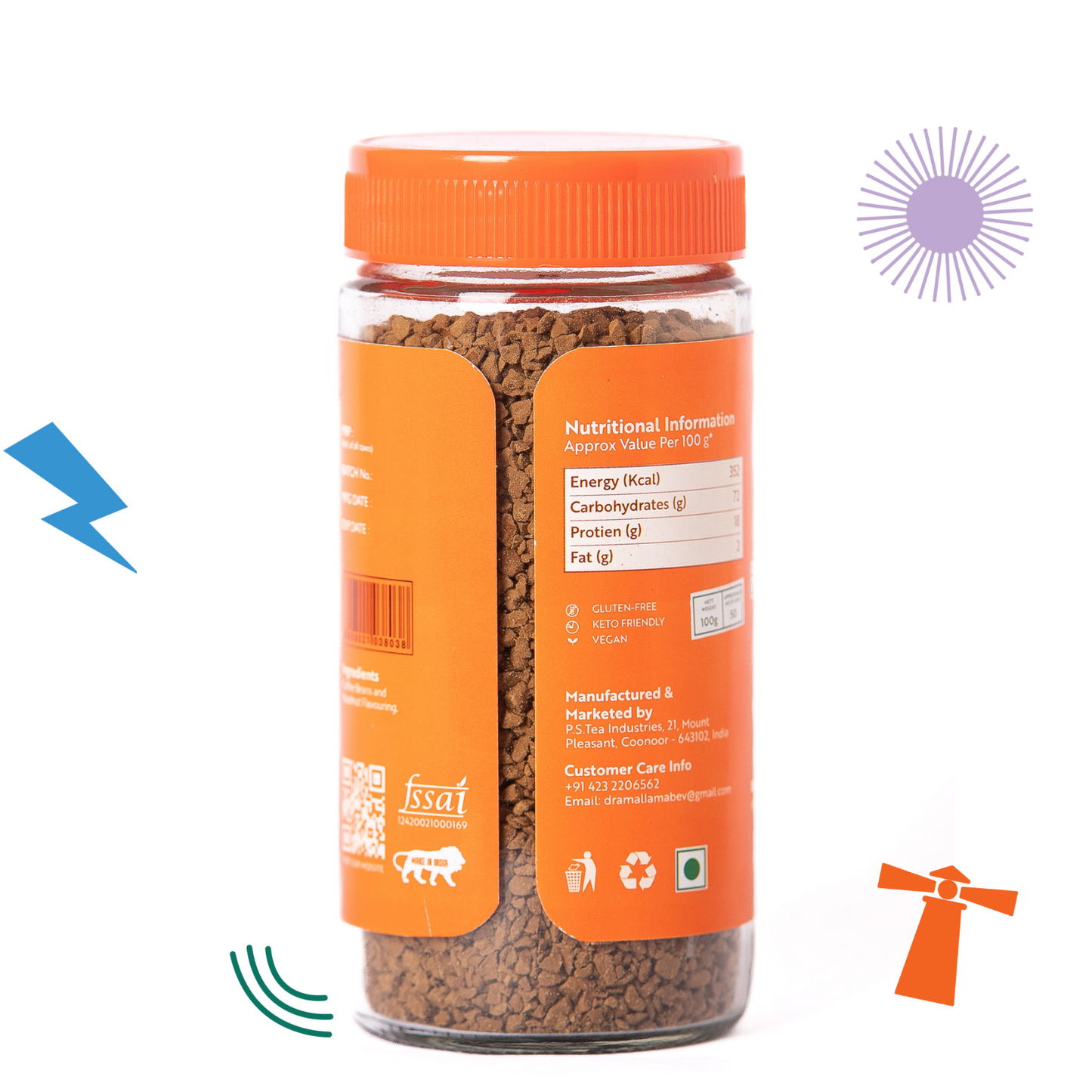 Drama Llama's Instant Coffee: A Revelation for Coffee Aficionados
Drama Llama, a new entrant in the world of coffee, has astounded this ardent coffee connoisseur. My online purchase of their Freeze Dried Hazelnut Instant Coffee and Pure Instant Coffee was a revelation.
The Freeze Dried Hazelnut Instant Coffee exudes a luscious aroma that dances on the senses. Its flavour is a harmonious marriage of rich hazelnut notes and the boldness of coffee, creating a symphony of indulgence. Brewing it was a breeze, and the convenience of instant coffee did not compromise its excellence.
As for Pure Instant Coffee, its robust flavour and aroma transported me to the heart of a coffee plantation. It's a testament to Drama Llama's commitment to quality.
As one who typically savours 'beans to cup' coffee, Drama Llama's instant offerings have not only met but exceeded my expectations. I'm already planning to explore their other products, enticed by the quality of these brews. I enthusiastically recommend Drama Llama to fellow coffee enthusiasts. It's a newfound gem in the realm of coffee, and I can't wait to spread the word and relish more of their offerings.